WHAT HAS TWO HEADS Sci-Fi Horror Anthology Authors (Part 2)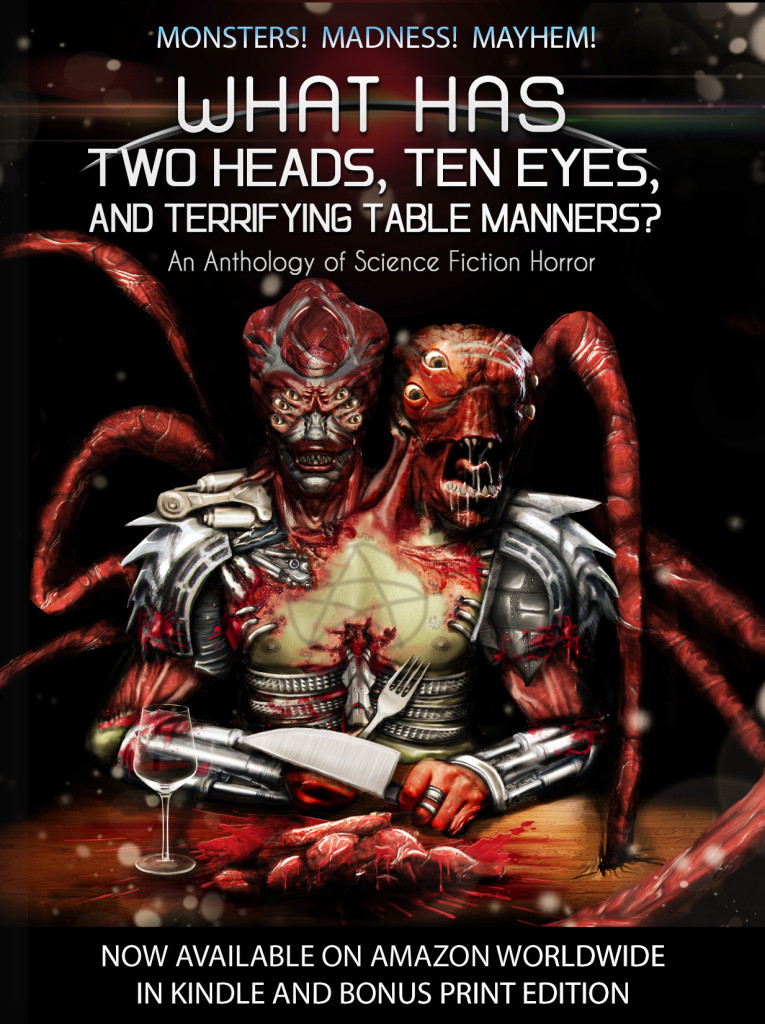 In anticipation of the release of Dark Park Publishing's Sci-Fi Horror anthology WHAT HAS TWO HEADS, TEN EYES, AND TERRIFYING TABLE MANNERS?, I proudly present the authors featured in the book, continued:
KC GRIFANT (author of "Out to Pasture") is an award-winning science writer specializing in technology, biology, and astronomy. She has written cover features for national publications on prototype robots that walk, talk and learn; wearable electronics; sunspot cycles; and metabolic "switches" for cancer. She has met several living writing inspirations: Margaret Atwood, Joe Haldeman, R.L. Stine, and William Gibson. Her creative endeavors are fueled by Taco Tuesdays, indie comics, and 100% Kona coffee.
DANIEL HALE (author of "Beauty Is Skin") is an up-and-coming storyteller living in Ohio, USA. He has been published in Revolt Daily, the All Hallow's Evil anthology of Mystery and Horror, LLC, and The Last Diner anthology of Knightwatch Press. When not writing he spends his days buying books faster than he can read them and worshiping all things British.
ASHLEY NORRIS HURD (author of "Black") is currently querying her debut novel, a young adult fantasy entitled Gemin. She is co-organizer of the Central PA Writers Workshop, an amazing group of encouraging and supportive writers. When she's not writing, she's usually teaching her crazy, fun alternative education students or taking road trips with her wonderful husband, Chuck, to see family, friends, or NASCAR races.
THOMAS KLEATON (author of "Mesozoic Appetite") is a freelance horror writer. He has had stories published online in SNM Horror Magazine and on the Hellnotes and Necon eBooks websites. His stories have appeared in the horror anthologies Cellar Door: Words of Beauty, Tales of Terror, Serial Killers Tres Trias, and Bones.
LISAMARIE LAMB (author of "Nighty Night") started writing in her late teens, but it was only with the birth of her daughter that she decided to write more seriously, with the aim of publication. Since that decision in 2010, she has had over 30 short stories published in anthologies and magazines. In November 2012, Dark Hall Press published a collection of her short stories with a twist, entitled Over The Bridge. In November 2013, J. Ellington Ashton Press released a second short story collection entitled Fairy Lights. She has also collaborated on a project entitled A Roof Over Their Heads, written by six authors from the Isle of Sheppey, about the island where she lives with her husband, daughter, and two cats.