Revisiting "VENT!": Famous Filmmakers Origin Stories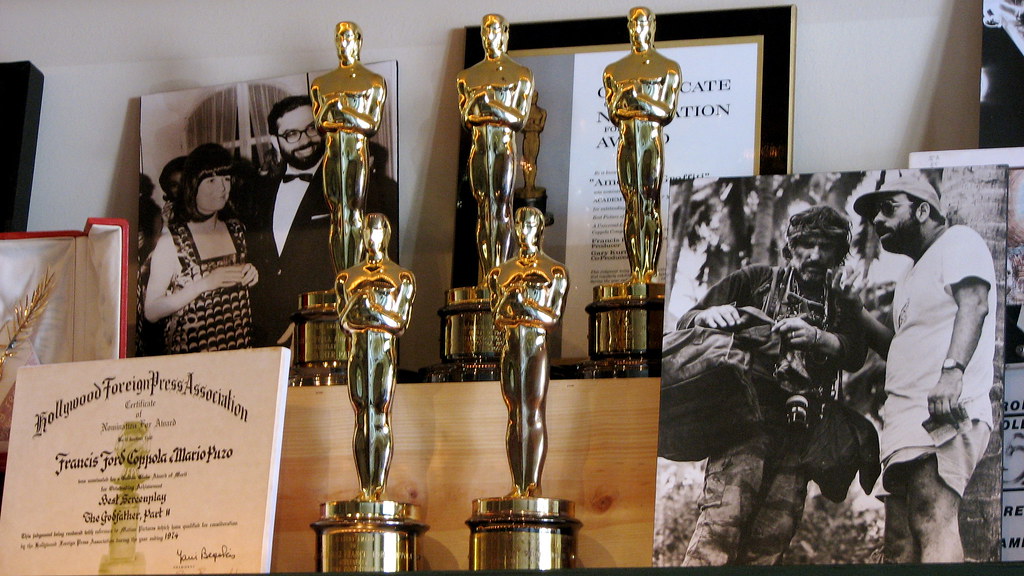 A significant element of VENT!'s raison d'être (see previous post) was demonstrating that even the most lauded and famous filmmakers had difficult, even doubtful beginnings. Below are a few true origin stories I had shared on the website about some respected auteurs. Whether you're a filmmaker, author, musician, or other artist, there's always hope if you're resourceful and persistent. (Being talented probably helps too.)
Francis Ford Coppola, the genius behind such cinema classics as The Godfather and Apocalypse Now, began his filmmaking career a little less illustriously. In 1961, as a UCLA film student, 22-year-old Coppola wrote, produced and directed a nudie short called "The Peeper" (inspired by Russ Meyer's The Immoral Mr. Teas). He combined it with a nudie western (made by others), plus some additional footage. The result was the 66-minute Tonight For Sure (original title: Wide Open Spaces). Coppola also shot new scenes for the nudie feature Playgirls and the Bellboy before going on to work for B-movie mogul Roger Corman.
Controversy monger and hyperkinetic filmmaker Oliver Stone began his auspicious career in the industry working for schlockmeisters Troma Entertainment (The Toxic Avenger, Surf Nazis Must Die, Class of Nuke 'Em High), first as an actor in the G-rated(!) The Battle of Love's Return (1971), and then as associate producer a year later on the initially X-rated erotic thriller Sugar Cookies.
Guerilla moviemaker turned Hollywood mover-shaker Robert Rodriguez partially financed his early films, including El Mariachi, by volunteering as a "lab rat" for medical experiments. One week-long session to test a speed healing drug required he endure biopsies in which small chunks of flesh were removed from both his arms.
Before moving to Austin, Texas to make his hit debut feature Slacker, Richard Linklater left school to work hard labor on an offshore oil rig in the Gulf of Mexico.
In lieu of film school, punch-happy film geek Quentin Tarantino learned his craft through working at a video store. His first job, providing him with an education of a somewhat different sort, was at a porno theater called the Pussycat Lounge.
Alan Rudolph, protégé of auteur Robert Altman and later director of such cryptically giddy films as Choose Me and Trouble in Mind, started off as assistant director on The Brady Bunch TV series. Among the very first projects on which he had honed his filmmaking talents (under a pseudonym) was the twisted 1973 horror feature Barn of the Naked Dead. The "plot" includes kidnapped women in chains, a psycho dressed as a ringmaster with a whip, a long-haired mutant from an H-bomb test site, as well as ridiculous dialogue, terrible sound, and bad editing.
Celebrated filmmaker/humorist Woody Allen was not quite the exemplary student. Before he was bounced out of New York University after having been enrolled for a total of only two semesters, he had never earned more than a grade of C- in motion picture production and an F in English. He admits to having skipped half of his classes (although he did attend the film screenings regularly). One dean told Woody he was "not good college material" and a professor of his declared he had no future in film. Years later, in lieu of academic honors and a college diploma, Allen has won major critical acclaim and three Academy Awards (and many nominations) for his work.