WHAT HAS TWO HEADS Sci-Fi Horror Anthology Authors (Part 3)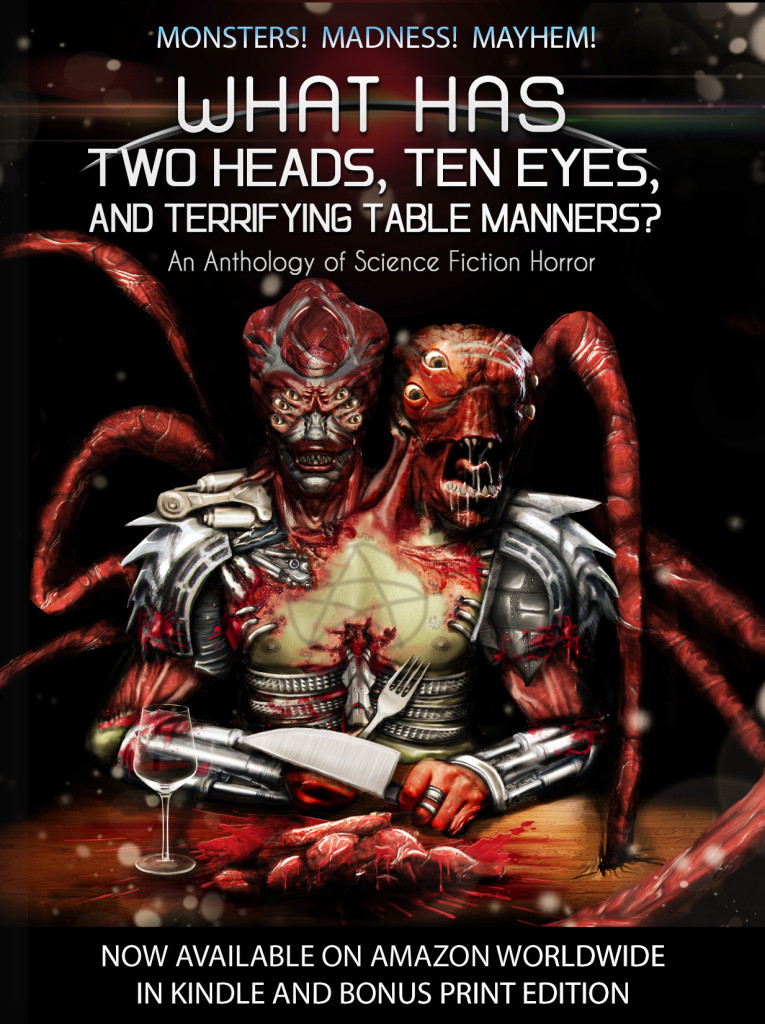 In anticipation of the release of Dark Park Publishing's Sci-Fi Horror anthology WHAT HAS TWO HEADS, TEN EYES, AND TERRIFYING TABLE MANNERS?, I proudly present more of the authors featured in the book:
VINCE LIBERATO (author of "Green") is an enthusiast of Bikram yoga, member of an iron-willed yet loving family, property of his girlfriend Micole, and owner of a dog named Pony. He has been featured twice in anthologies published by Third Flatiron Press (Intelligence and Redshifted: Martian Stories), every volume of the Demonic Visions series, as well as Almond Press's After the Fall, Tales of the Apocalypse and Horrified Press's Tales of the Undead: Undead in Pictures. He lives in Texas.
JAMES AUSTIN McCORMICK (author of "Homecoming") is a college lecturer from England who enjoys all types of speculative fiction—science fiction, horror, and fantasy especially—and often tries to blend these elements together in his own writing. He is also a particular fan of classic Gothic and Victorian horror tales. James has had many works published professionally, most recently two science fiction novels, Dragon and Sunfall, both published by Class Act Books. In addition, he has also had several novellas and short stories published in various publications. These include a vampire western "Sundown" in the horror anthology Deathgrip, a fantasy comedy "Tommy and the Trolls" in the anthology Strangely Funny, and dozens of shorts in such magazines as Jupiter SF, Tales of the Talisman, and Thirteen Stories. Continuum SF also published a series of his science fiction tales from 2004 until 2006. James has two more novels out in the next year: Balec, a supernatural horror, and The Last Synn, a sword and sorcery fantasy inspired by his two writing heroes H.P. Lovecraft and Robert E. Howard.
BEN PIENAAR (author of "Halo") presently clings to dear life in Melbourne, Australia. To support his debilitating coffee and writing habits he works two jobs, one teaching children English and another selling alcohol to the masses. He has three to five vivid nightmares per week, often using these as inspiration for his stories. He has recently attained a Bachelor of Arts at Deakin University but still refuses to get a real job, preferring instead to hide in his dark, rat-ridden house and read copious books. He has had eleven short stories published to date in various magazines and anthologies, and is currently working on a novel about a mythological beast no one seems to have heard of.