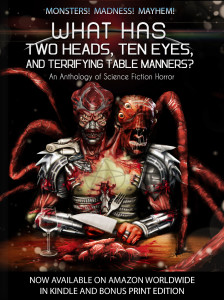 WHAT HAS TWO HEADS, TEN EYES, AND TERRIFYING TABLE MANNERS?
~An Anthology of Science Fiction Horror~
My shadowy but sensational small press Dark Park Publishing has released its first ever genre anthology, edited by yours truly, available exclusively on Amazon in Print and eBook formats.
Amazon book links: US, UK, Canada, Australia, Germany
In the tradition of movies like Alien, The Thing, Event Horizon, Invasion of the Body Snatchers, and Phantasm, WHAT HAS TWO HEADS, TEN EYES, AND TERRIFYING TABLE MANNERS? features more than a dozen never-before-published short stories that mix Horror and Science Fiction elements.
These original tales, written by some of the best new genre authors from across the globe, range from the horrifying to the humorous, the cerebral to the surreal. All are devilishly entertaining.
A sampling of early reviews:
"If you are looking for a wide variety of short science fiction stories with the flair of horror reminiscent of The Twilight Zone or Outer Limits, you need to look no further. WHAT HAS TWO HEADS, TEN EYES, AND TERRIFYING TABLE MANNERS? brings together a diverse assortment of works from some talented literary voices." –Ricky L. Brown, Amazing Stories
"Great anthology. A collection of very well-written, creative sci-fi horror… excellent selections from authors who clearly understand how to create chilling details in a short space and who clearly understand how to jam words together the right way. I definitely recommend it; well worth the time."  –RKM, Amazon reviewer
"I love this book, a collection of short stories which are fabulously different, from the insane and dead funny to spine chilling and creepy, if you love the surreal, with horror meets science fiction; this beautiful collection is a must." –Cid Andrenelli, Goodreads reviewer
"Really imaginative stuff, well written, fun to read. Some of the stories had me thinking long after I'd turned off my Kindle. I love short horror stories that really punch your nads in a brief word count. Pretty awesome." –Rebecca McDowell, Goodreads reviewer
Here are the included tales:
"Microwave Technology" by Evan Purcell
"Crooked Head" by Steve Billings
"Beauty Is Skin" by Daniel Hale
"The Silence of Hestia" by Paul Starkey
"An Amuse Bouche" by Lizz-Ayn Shaarawi
"Halo" by Ben Pienaar
"Green" by Vince Liberato
"Black" by Ashley Norris Hurd
"Homecoming" by James Austin McCormick
"Time to Find Charley" by Catherine Edmunds
"Mesozoic Appetite" by Thomas Kleaton
"Pet" by Sawney Hatton**
"Out to Pasture" by KC Grifant
"China Doll" by Frank Collia
"Nighty Night" by Lisamarie Lamb
"The Horror of the Heights" by Sir Arthur Conan Doyle**
**Bonus story available only in Print Edition.
Follow @DarkParkPub on Twitter for the latest book updates.