Author Talk: Rocking Q&A with Russ Colchamiro
I will be hawking my wares, reading from said wares, and possibly defiling same said wares at the upcoming TWISTED WORLD VILLAINS & VIXENS convention in Philadelphia (well, King of Prussia, but close enough) the weekend of MARCH 28-30. I'll also be sharing a table with fellow author/rapscallion RUSS COLCHAMIRO. In anticipation of this dynamic pairing, we asked Russ a bunch of questions and received mostly coherent answers. Enjoy.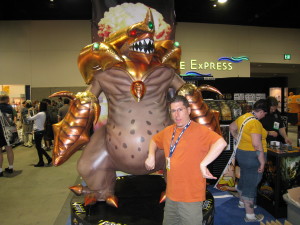 Q: Russ, Russ, Russ, you sorry sonuvabitch… you've written two novels to date (FINDERS KEEPERS and CROSSLINE) and refuse to stop doing this to yourself. What motivates you to keep on writing?
RC: I'm stuck in a time loop and writing is my only way out. But since I'm clacking the keys anyway… the fan reaction has been great, and I just keep building on that. They really seem to respond to what I'm doing, and they're coming back for more in greater numbers, which is nice. Plus… writing sci-fi adventure and humor allows me to work out my issues. And if you've ever been caught in a time loop… uh, yeah. There are issues. There's tons of static cling, which can be really embarrassing.
Q: In your work you are very keen on melding zany humor with science fiction. How do you effectively accomplish this?
RC: There's actually a method to my madness. Underneath what I call the 'cosmic lunacy' of my novels, I fundamentally write about the juxtaposition of two disparate themes: the adventure and struggle of personal growth, and the larger mysteries of the Universe. Both can be fantastical, heartbreaking, and ball-bustingly hilarious. My goal is to capture a combination of those sentiments in one larger story, so that within one novel you get a personal narrative and an epic-style cosmic adventure.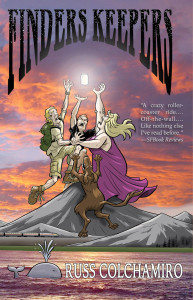 Q: We hear you are currently writing a sequel to FINDERS KEEPERS. Do you anticipate all 5 people who read the first one to purchase the follow-up?
RC: Hey, don't get snarky. I've sold seven copies. Granted, three were to my grandmother, but still. Counting it! Seriously, though, I've sold a few thousand copies of my books so far, and they continue to sell. But in terms of connecting with fans… last year was a real challenge because I had a long bout of bronchitis, and then I sold my apartment, and bought a house, which was crazy. But I'm settled in now and off to a great start this year. I've already done signings, a few promotions, and the reviews have been exciting! And my publishing schedule is heating up. I'm re-releasing FINDERS KEEPERS in April through Crazy 8 Press, will be submitting a FINDERS KEEPERS short story to an anthology, am contributing another original short story to a Crazy 8 Press anthology we're doing, and I'm finishing up the first FINDERS KEEPERS sequel, which is due out in early 2015. The third book in the series–which completes the first trilogy–is tentatively scheduled for 2016.
Q: We notice that you are "sharing" a table at the upcoming TWISTED WORLD VILLAINS & VIXENS convention in Philadelphia (March 28-30) with your archenemy Sawney Hatton, author of the semi-universally acclaimed DEAD SIZE. What kind of masochist are you?
RC: Sawney Hatton is so demented, being around him helps put my life into perspective. If you ever want to feel like you're a normal, healthy, well-adjusted adult, spend just five minutes with Sawney. Eee… yikes.
Q: Last question: what surprises do you have in store for those who come to visit your table at Twisted World?
RC: There will be ducks. That's all I'm saying.
Q: No, wait, this is the last question: what is your most embarrassing personal "wardrobe malfunction" moment, and would you re-enact it at the convention?
RC: Okay… I'll share, but no, I will not re-enact. During my freshman year of college I went out on a Wednesday night, and got blotto. Didn't plan it that way; just kinda happened. And I wasn't a big drinker, so I was susceptible to blotto, especially given that on this particular night I consumed a lot of crappy beer, several mugs of Tequila Sunrise, and very possibly smoked something dubious. It's all a bit hazy, but apparently I stumbled back to the dorm, disrobed full monty, went into the showers, pulled down a shower curtain (or I fell and held on for dear life), did some kind of jig, and then wore the shower curtain like a toga. When I woke up the next morning there was a giant sign on the wall, outside my dorm room, with the words DANCE NAKED in huge letters. My first and last public dance recital.
ABOUT THE AUTHOR: RUSS COLCHAMIRO
Russ Colchamiro is the author of the sci-fi backpacking comedy FINDERS KEEPERS, the space adventure CROSSLINE, and is one of the author partners with Crazy 8 Press. Russ is married with two children, and lives in New Jersey. If his books convey a joy and wonder about the Universe, it's because he's half philosopher, half screwball. And he time travels. But don't tell. It's a secret.
You can follow Russ Colchamiro on Twitter @AuthorDudeRuss, Facebook, and Goodreads. His novels FINDERS KEEPERS and CROSSLINE are available on Amazon, Barnes & Noble, and Kobo. You can also visit him at www.russcolchamiro.com and www.crazy8press.com